Ultrasound for general practice: Dependable and elegantly simple

The Versana Essential ultrasound machine combines quality, clinical capability and dependability in an affordable ultrasound package. Practical and easy-to-own, the Versana Essential ultrasound machine makes workflow easy. It includes a diverse portfolio of ultrasound scan capabilities for general practice applications.

The Versana Essential ultrasound machine is easy to learn, with online tools such as Scan Coach and My Trainer, backed by optional local ultrasound education* and support to help you perform ultrasound scans with confidence and connect with your patients.

You also enjoy service, a robust warranty, and flexible financing*. Experience the peace of mind that comes from having a world-class, affordable ultrasound machine.

* Local ultrasound education and financing offerings may vary according to regions. Please check with your local GE representative.

Download brochure

Ultrasound for your OB/GYN practice: Dependable and elegantly simple

The Versana Essential ultrasound machine provides high-quality ultrasound for OB/GYN care with quality, reliability and affordability. Practical and easy to own, it delivers image quality to support prenatal exams with the detail you need for confident diagnoses. Online Scan Coach and My Trainer, backed by optional local ultrasound education* and support.

Versana Essential ultrasound machine applications include ultrasound for OB/GYN measurement, SonoBiometry, and Whizz onetouch, dynamic image optimization, so you can perform ultrasound for OB/GYN exams with confidence and connect with your patients.

You also enjoy service support, a robust warranty, and flexible financing options*. Experience the peace of mind that comes from having worldclass, affordable ultrasound.

* Local ultrasound education and financing offerings may vary according to regions. Please check with your local GE representative.

Download brochure
Experience Versana Essential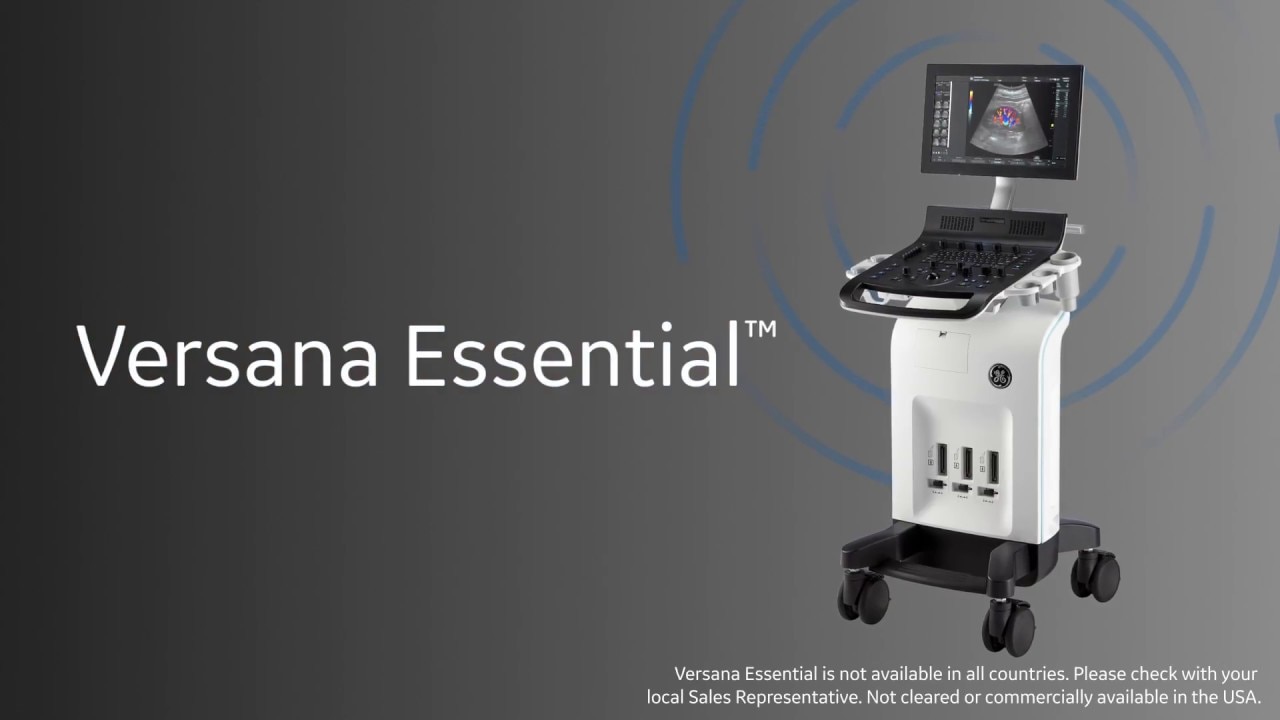 A partner you can trust

GE legacy, technology, reliability and support

The Versana Essential brings you the complete dependability you would expect from GE Healthcare.

The Versana Essential ultrasound machine comes with GE's powerful proven imaging features:

Coded Phase Inversion Harmonic Imaging
CrossXBeam™ Spatial Compounding
Speckle Reduction Imaging (SRI)
Multiple Line Acquisition
Whizz
Color Doppler, Power Doppler and Pulse Wave
LOGIQ View

The Versana Essential ultrasound machine is backed by multi-year service coverage and dependable technical support. *

* May vary from country to country. Check with your GE sales representative for further information.

A complete solution

Equipment, education, financing

Versana Essential is a complete ultrasound solution – one you can learn to use quickly and productively. It enables confident clinical decision-making for quick referral and immediate clinical correlation, so you can perform ultrasound scans on a wide range of patients.

Optional local ultrasound education offerings* including hands-on sessions and certification help you get up to speed quickly.

Versana Essential is easy to own and affordable with optional financing terms* and customizable solution to help manage the cost of ownership.

Ultrasound training and ultrasound eduction

On-board tutorials and training tools plus local education offerings Read more

Ultrasound financing options

Flexible programs to meet our needs and budget. Read more

An opportunity for growth

Meet today's needs with an upgrade path for tomorrow

When you purchase the Versana Essential system, you gain more than the well-known quality and reliability of GE – you set your medical center and your practice up for growth.

Enhance your services with immediate ultrasound diagnostics, so you can retain patients instead of referring them out.

With a range of transducers and applications to enhance the amount of information you see during your diverse patient exams, you can rapidly build your diagnostic confidence – and your patients' comfort and confidence in you.

Versana Essential enables you with its flexibility. And with software designed to suit your daily practice, simplify your workflow, and empower your clinical efficiency, you can scan with confidence right from the start. Plus, Versana Essential is configurable and upgradable, so it can evolve to meet your advancing competence.

When you're ready to take the next step and explore your growth potential, we're here to assist you in choosing your new GE ultrasound system and help transform the care you deliver.

* Check with your GE sales representative for information about education offerings in your area.
Versana Essential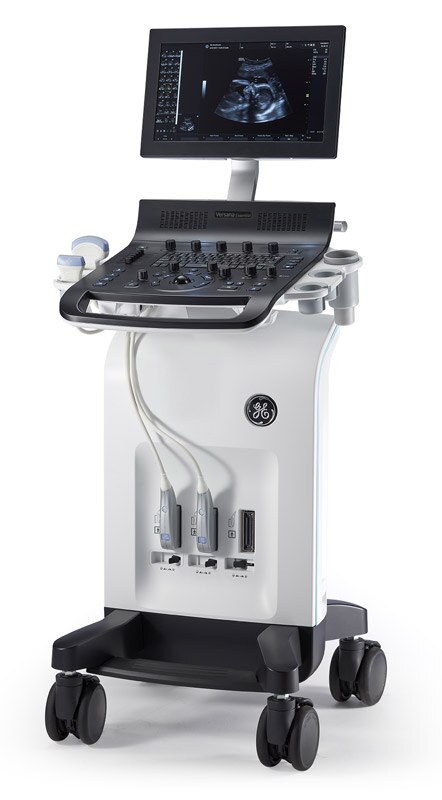 Fetal profile

Liver

Kidney with color Doppler

Shoulder

Fetal nose

Fetal heart

Fetal vessels with color Doppler

Umbilical cord with color Doppler

Carotid with color Doppler