This is a repost of an article that originally appeared on GE Reports.
Over the past few decades, Bangalore has established itself as India's innovation hub and the country's own take on the Silicon Valley. But these days, progress here goes beyond technology and software; it's addressing global hot issues like diversity, equality, and inclusion.
The latest example: a brand-new medical equipment factory operated and built by the GE Healthcare subsidiary Wipro GE in just eight months in the Bangalore suburb of Whitefield. Tucked away from the bustle of Bangalore's hectic traffic, the white-walled plant sits in the middle of a green oasis accessible by a road lined by tall palms and blooming bushes and surrounded by verdant lawns. Inside, in early March, some 35 women were working in three shifts, assembling computed tomography and ultrasound machines that will help doctors treat patients in India and around the world. The number is expected to reach 100 within two to three years, due in great part to focused efforts to increase female candidates during the recruitment process.
The plant is as much about the latest healthcare technology as it is about topics that resonate across India and far beyond its borders. "When we decided to open this new factory, we felt that it was a great opportunity to do something different," says Krishna Shrinivasa Rao, the plant's manager, who also led the effort to build it. "Core manufacturing has traditionally been a male bastion, with people thinking that manufacturing involves brute force and heavy lifting and partly also because of the talent coming out of colleges, which was lopsided towards men. But industry has progressed."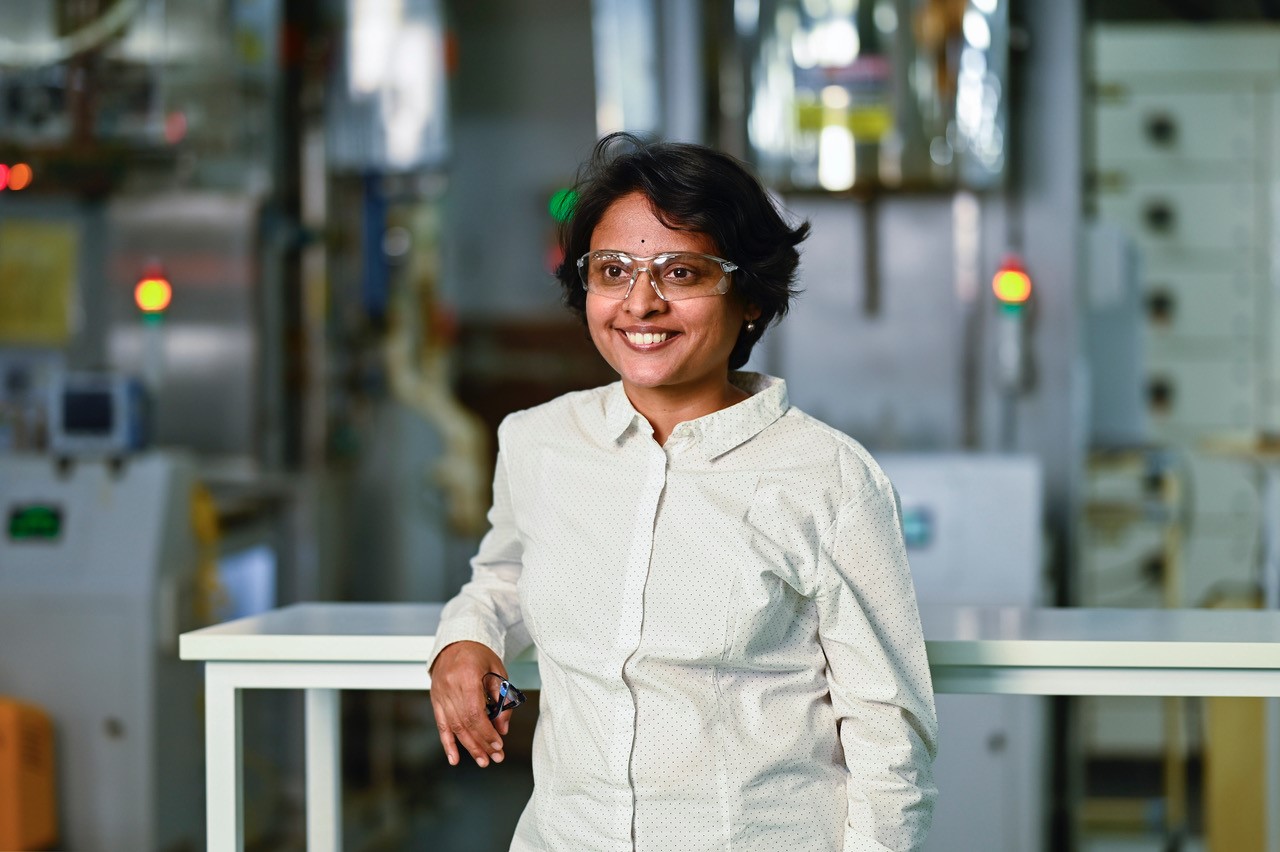 "I grew up with two sisters, and our father was always very clear to us: Study, get a job, stand on your own legs, and the rest will take care of itself," says Shuba Nagesh, who manages one of the factories. Above: A team of women assembling MRI machines.Top and above images credit: Wipro GE.
With men representing the majority of the workforce at the other three GE plants in the city, Rao and other executives decided to improve the number by focusing on staffing the new factory with women. "It's a good beginning for us to ensure that we are moving closer to the same diversity that exists in the world beyond our gates," he says.
A good beginning indeed. "This job is giving me energy," says Dhanalakshmi Nagaraju, a manufacturing process engineer who joined several months ago. "It allows me stand on my own feet."
Championing women is not a new thing for GE. While Rao is a man, two of the three other GE factories in the city are managed by women: Sandhya Gupta and Shuba Nagesh. When Nagesh joined GE in 1997, she was the only female engineer in her unit fixing and maintaining GE medical equipment in hospitals across India. It was sometimes a lonely job — traveling to the farthest corners of India with a 20-pound bag of tools to check on an imaging machine. But Nagesh says she was attracted to GE because of the empowerment and the meritocracy she saw inside. She didn't want to be treated differently because she was a woman. She wanted a chance. "I grew up with two sisters, and our father was always very clear to us: Study, get a job, stand on your own legs, and rest will take care of itself," she says.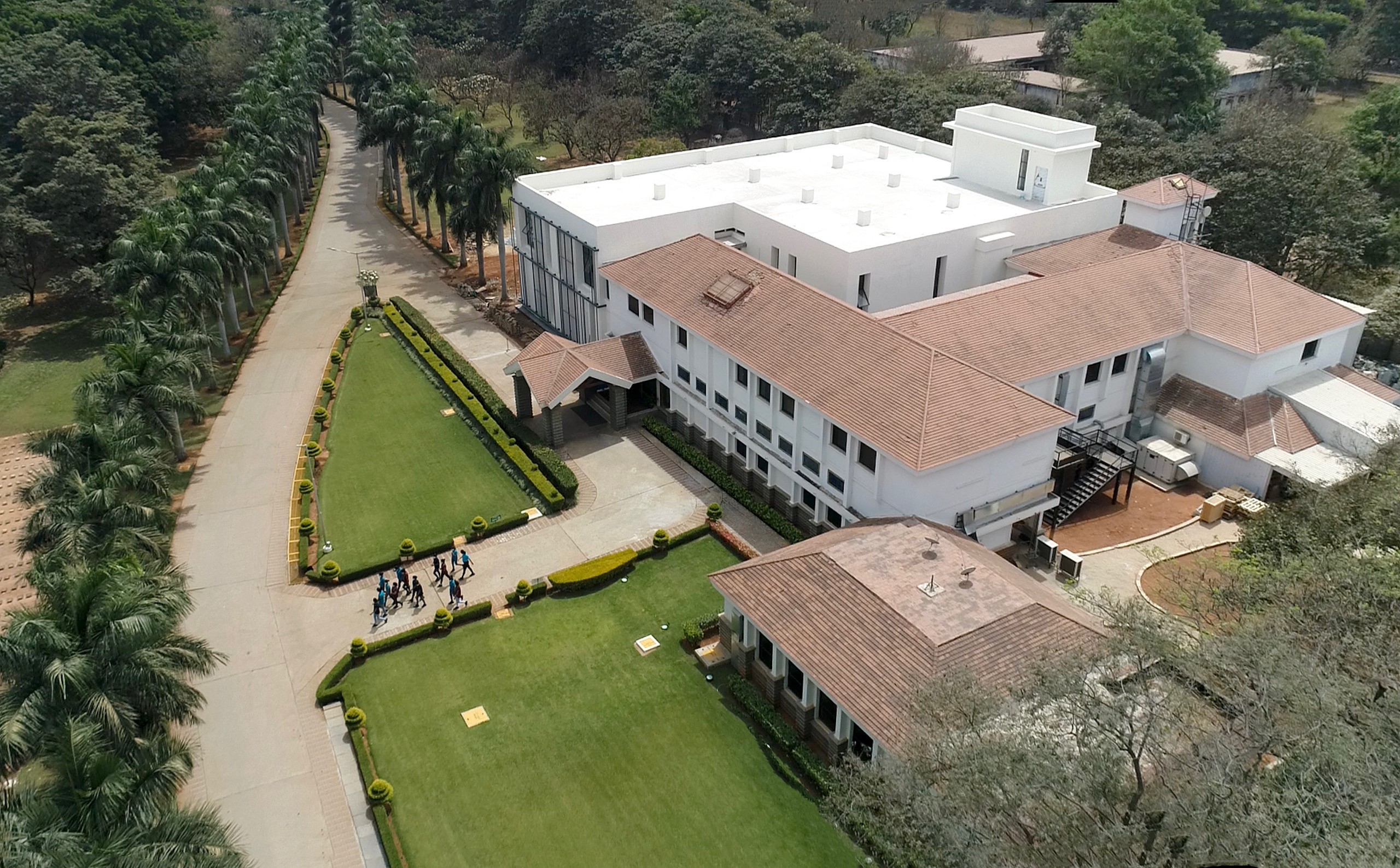 The Wipro GE campus in the Bangalore suburb of Whitefield. Image credit: Wipro GE.
And a chance she got. Hailing from a family with roots in rural India, she asked her GE supervisor to go to remote communities to make sure that people there had access to care. "The opportunity I got was very similar to anybody in the organizations, and that meritocracy made me grow and transformed me to who I am," she says. "Today we have two female plant managers here not because someone said one day, OK, diversity is important. It came from decades of mentoring."
Mahesh Kapri, the GE Healthcare managing director who oversees the four plants, says the new factory is building on this legacy. "Breaking barriers starts with admitting they exist," he says.
Beyond GE, Kapri, Rao and other executives also saw the new factory as an opportunity to address the low percentage of women in the country's labor force. In 2019, just roughly one in five Indian women worked, and they accounted for only 27% of the workforce overall. In manufacturing, the numbers are lower still, with women making up just 12% of workers.
To help redress the imbalance, the new Wipro GE plant committed to hiring women for the factory floor jobs, and to installing women like Nagaraju to production leadership positions. Moreover, the company strove to ensure that women will make up half of the senior managers for the entire GE Bangalore hub. "We are creating a culture where every employee gets an opportunity to be successful and thrive," Kapri says. "Diversity is the what, it is the makeup of the workforce, and inclusion is the how, the creation of the work environment. We need a diverse and inclusive workforce so that we can break bias and stimulate the richness of ideas and viewpoints."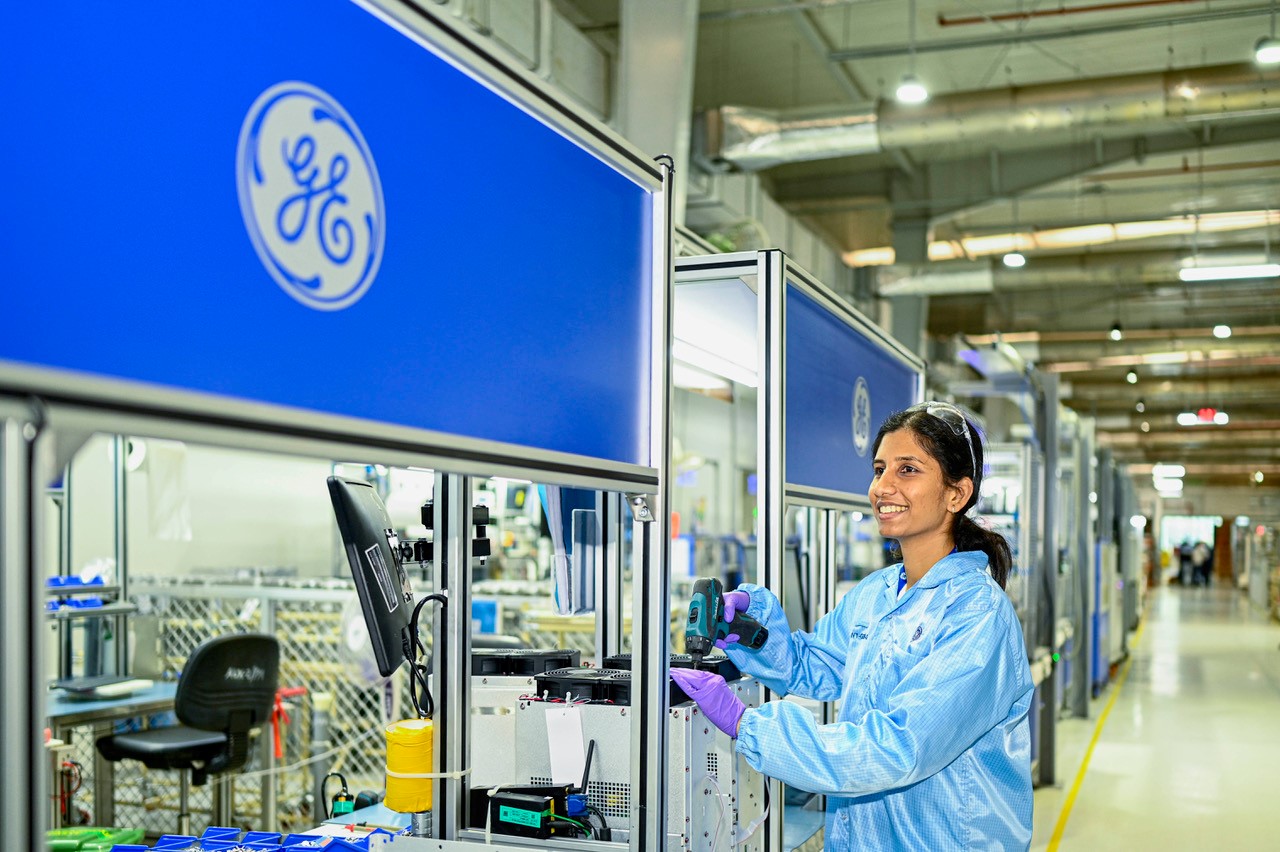 "I love seeing the shop floor filled with these women who are so passionate about what they do," says one employee. Image credit: Wipro GE.
To fund the plant's construction, GE Wipro looked to India's economic response to the pandemic. When the government unveiled its COVID-19 recovery package in 2020, it urged "aatmanirbharta," a Hindi word meaning self-reliance, and envisioned India manufacturing more of its own goods and weaning itself off imports.
Managers calculated that the new factory could significantly boost GE Wipro's entire localization ratio, or the proportion of components sourced domestically. In a time when global supply chains are being stretched to a breaking point, this has the potential to benefit GE, since the Indian government hopes these new manufacturing hubs can beef up local supply chains and boost entire regions.
It's a win all around: for India, for the company, and for the women. "We bring the women to the facility, we train them and we help them understand the manufacturing process," says Akshatha Thimmaiah, a production team leader who oversees CT scanner assembly at the plant.  "They always come with a big smile and they are energized by the fact that they get to build their careers both within GE and outside." Thimmaiah, who even as a girl was fascinated with technology and wanted to know how machines work, says she wanted to be a pioneer and "always believed that you have to get into a profession where there are fewer women, and you have to explore these options so that the younger generations can follow you. If the women are empowered, we can build a stronger nation."
Adds her colleague Ayesha Abdulla: "I love seeing the shop floor filled with these women who are so passionate about what they do. They are just so excited and so willing to learn. They want to do things for themselves and make a better future for themselves and their families."
It took Wipro GE just a few weeks to hire the employees it needed. It scoured adult-education schools, called industrial trade institutes, where millions of Indian workers — heavily male — learn manufacturing skills, and it found plenty of female science, technology, engineering and mathematics (STEM) talent. These steps will also help the business increase gender diversity at its three other area plants.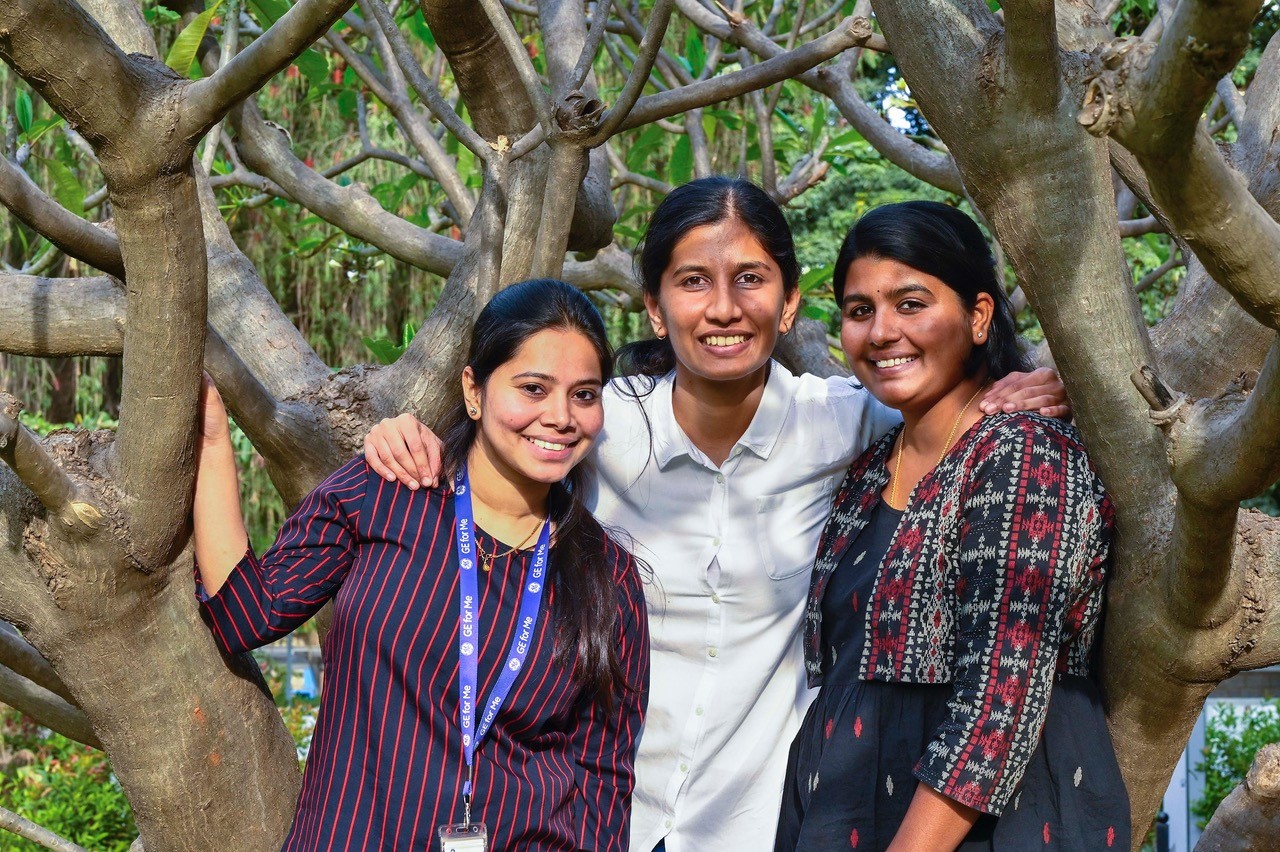 Deepika Kamat, manufacturing process engineer; Sahana G. Hegde, production team lead for GE Healthcare; and Lakshmi Reddy, quality assurance engineer. Image credit: Wipro GE.
Over the past few months, the new GE recruits have undergone rigorous training, learning the operating practices relevant to their role. "That's very important to the job," says Rao, who is quick to point out that the plant is no publicity stunt. "The manufacturing process, the focus on safety, quality, delivery and cost, is the same as in the other factories," he says. "But these principles are not related to whether the work is done by a male or a female. Women are able to do exactly the same operations as men can, and there is no compromise that we do for the sake of" hiring more women.
In fact, Rao says, the new plant is quite advanced, since, as a brand-new factory, it was able to adopt the latest manufacturing technologies and processes, including lean management. "What we've done here can be scaled anywhere — in India, in the world, and across industries," he says.
The plant is scheduled to officially open over the next month, but production is already running. In keeping with the labor policies of Karnataka, the state that is home to Bangalore, the women are being trained to work any of three shifts around the clock. Like their male counterparts, they are operating high-voltage equipment and using the same tool to assemble and join machine parts. But Wipro GE will also offer a nursery and minibuses to take the women between their homes and the shop floor.
Lakhsmi Shivalinghiah is a production team leader at the new factory. She lives with her mother and her sister and talks about her experience of what women working together can achieve. "Personally, I am a type of a woman who wants to try new things," she says. "For example, I wanted to become a mechanical engineer even though this was what men did. Working with such young colleagues here gives me immense pleasure."