The GoldSeal Advantage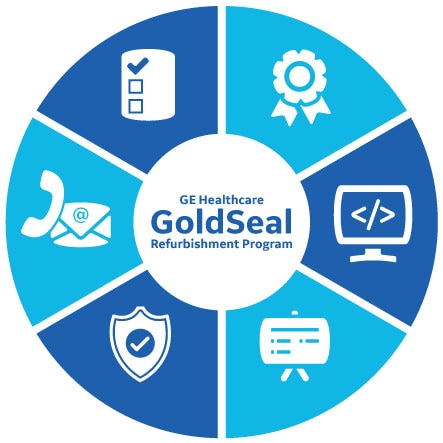 GoldSeal refurbished InnovaTM 2100 systems provide an image-guided system for cardiovascular and interventional imaging.

GoldSeal allows you to invest in mammography excellence with a refurbished SenographeTM Essential.


Infinia™ Hawkeye™ 4 incorporates hybrid imaging technology to help enable confident diagnosis, disease detection and precise localization.

Refurbished GoldSeal Discovery™ST is the integration of Positron Emission Tomography (PET) and Computed Tomography (CT) technologies into one powerful scanner, av...

GoldSeal refurbished LOGIQ™ ultrasound systems deliver advanced point-of-care imaging across a range of care areas. Affordably.
Support
GE Healthcare service and support

Global network of 12,000 service technicians and 24/7 access to support.

Deep experience

20 years in refurbished equipment business, with 18,000+ systems sold globally.

Quality process

More than 100 labor hours & 400 steps involved in CT system refurbishment and validation, ensuring the highest standards of refurbished quality.
Looking to sell medical equipment?
When you sell your used medical equipment to GE Healthcare, you'll enjoy the convenience—and benefits—of working with equipment experts. Not only can we help offset expenses related to deinstallation and disposal, but you can rely on us to offer a firm and fair value for your equipment, based on our deep understanding of market conditions. As your familiar point of contact, you can always depend on our offer to purchase and schedule commitments.
WIPRO GE HEALTHCARE PVT LTD
No. 4, Kadugodi Industrial Area,
Bangalore 560067,
Karnataka, India
CIN: U33111KA1990PTC01606
Grievance Officer: Nestor J. Rivera
Chief Privacy Counsel/Officer, GE HealthCare