Soon after Joseph Minardi completed is residency in 2006 and became an Emergency physician at West Virginia University Hospitals, he was tasked to learn everything there was to know about Point of Care ultrasound (POCUS) and then train his colleagues.
Little did he know, 14 years later this POCUS expertise and experience would help him create a viral educational moment early in the COVID-19 pandemic.  Dr. Minardi taped a short YouTube tutorial for the WVU Medicine program that quickly spread online and touched more than 28,000 ultrasound users from across the globe. His best-practice, how-to video focused on POCUS's ability to help triage patients, focusing on potential signs of COVID-19 in the lungs like irregularity and thickening of the pleural lining, the tissue that envelopes and protects the lungs, and increased B-lines that appear somewhat like a bright, waterfall in the image.
One year after this viral video, Minardi continues to put these ultrasound protocols to use while treating his patients – including many COVID-19 cases from across West Virginia. Now Chief of the Division of Emergency and Clinical Ultrasound at West Virginia University Hospitals and Director of WVU's Medicine Center for Point-of-Care Ultrasound, Dr. Minardi spoke about his day-to-day experience:
"We were getting crushed with COVID patients. We had hospitals that were so full that we were implementing outdoor tent spaces. Working in the Emergency Department, we saw a surge of emergency patients alongside COVID patients because everything was full. On top of that, a lot of people who delayed their care during the pandemic are coming in worse than they would have been had they come in earlier. In these cases, it was hard to find open beds at referral centers so patients requiring specialty care often waited days and traveled much farther than normal to get appropriate care."
Fit for the COVID Fight: Smaller and Smarter Ultrasound with AI
Ultrasound has quickly become a tool of choice for many clinicians managing high-volumes of COVID-19 patients because it helps get information quickly, is very portable, and is easy to clean. Ultrasound can help a doctor examine and monitor the lungs and heart of acute patients for potential signs of infection and cardiac side-effects. Several studies have found lung ultrasound a good alternative to X-ray or CT when examining the lungs of COVID patients.[1],[2]
These are some of the reasons why Minardi, who splits his time between the larger academic and smaller emergency departments and clinical education settings, takes his Venue Go™ ultrasound everywhere he goes. Recognized by Fast Company in 2020 for its 'world-changing' design, Venue Go has a touch screen and detachable monitor that gives clinicians like Minardi high-powered ultrasound capabilities where they need it.   
"It's easy to use and I don't have to struggle with the interface to be efficient," says Minardi. "Importantly, it's easy to clean, as I'm always worried there might be COVID-19 hanging around. The touch screen helps with that."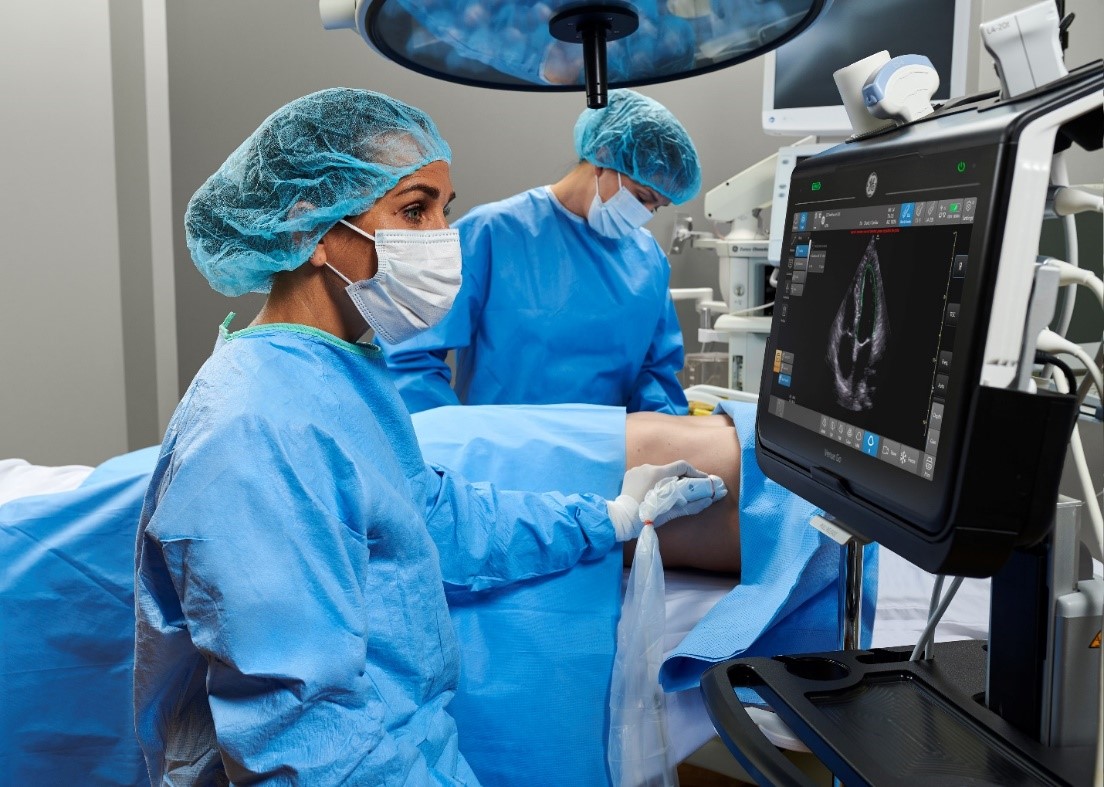 Boosting the diagnostic power of his ultrasound tool kit are new features on the Venue Go, including Lung Sweep and an industry-first AI cardiac scanning tool - RealTime Ejection Fraction (EF). These tools allow Minardi to quickly capture panoramic views of the lungs and real-time measurements of the heart's ability to pump blood throughout the body.
"I've noticed the biggest impact of the new tools with all of the COVID-19 patients I've seen. I can bring it into the room with me, use the Lung Sweep and lung diagram tool, and have the information I need right away. If someone's short of breath, I'm looking at both the lungs and the heart with the real-time EF tool."
Looking ahead, Minardi expects advancements like the Lung Sweep tool to position ultrasound as a mainstay in emergency department protocols in the future. "In my opinion, I prefer lung ultrasound to X-ray for many reasons, but it can take a little more work to acquire and interpret. If we can get it to a place where all clinicians can read the scan in one look and make them as comfortable with it as the chest X-ray we've been using for years, I think ultrasound can make a big difference in our workflow."
Ultrasound is not just getting smarter, but smaller. Venue Fit™, GE Healthcare's newest and smallest member of the Venue Family, was designed to meet the need of having point-of-care ultrasound in tight spaces like the COVID ward or in the ICU. For clinicians like Minardi and his students, this means another point-of-care ultrasound tool that can be accessible, portable, and intuitive while providing patient care.
AI Helps Train the Next Gen of Ultrasound Users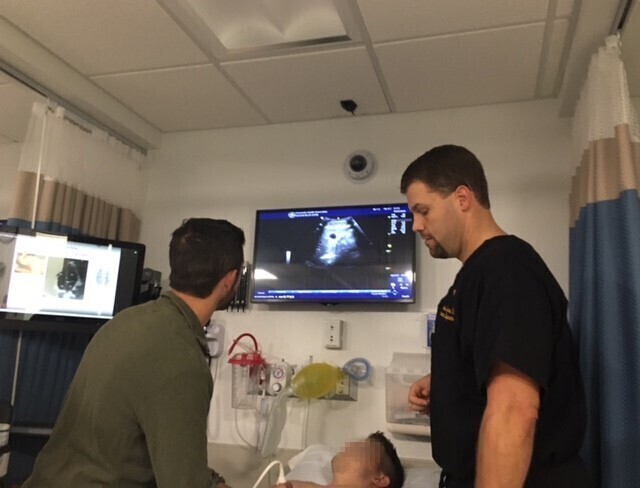 At a time where clinicians worldwide are treating record volumes of patients with limited staff and resources, quickly onboarding POCUS users can change patient outcomes and improve care in both pandemic and more normal settings. In fact, Minardi believes that POCUS "needs to be a future tool for all clinicians," and he is increasingly excited about AI-applications like Real-Time EF that can make ultrasound more accessible to new ultrasound users and Lung Sweep that can make the workflow for lung ultrasound more similar to viewing a chest x-ray.
"The interface is just so much easier and intuitive, not just for me but for learners of ultrasound. They can just go in and find what they need," said Minardi. "It's like they have a guide for them in the machine even if I can't be there. It helps give them an extra level of confidence."
For information about the new software offerings and to access the Venue Family interactive educational platform visit: https://venue-pocus.gehealthcare.com/
---
[1] Cho, Young-Jae & Song, Kyoung-Ho & Lee, Yunghee & Yoon, Joo Heung & Park, Ji Young & Jung, Jongtak & Lim, Sungyoon & Lee, Hyunju & Yoon, Ho & Kim, Hong & Kim, Eu Suk. (2020). Lung ultrasound for early diagnosis and severity assessment of pneumonia in patients with coronavirus disease 2019. The Korean Journal of Internal Medicine. 35. 771-781. 10.3904/kjim.2020.180.
[2] Smith, M. J., Hayward, S. A., Innes, S. M., & Miller, A. (2020). Point-of-care lung ultrasound in patients with COVID-19 - a narrative review. Anaesthesia, 75(8), 1096–1104. https://doi.org/10.1111/anae.15082