Wipro GE Healthcare launches Vscan Air for Enhanced Point-of-Care Imaging in Nepal
A wireless, handheld, ultrasound system that enables whole-body scanning at the point-of-care and helps healthcare professionals make more informed decisions, faster.
First launch in South Asia, the portable device sets itself apart with its cutting-edge SignalMax technology, elevating image quality and enabling accurate diagnoses.
Kathmandu, Nepal, August 30, 2023: Wipro GE Healthcare, a leading global medical technology, diagnostics, and digital solutions innovator today announced the launch of Vscan Air to enhance point-of-care imaging capabilities in Nepal, enabling accessibility to remote locations. The wireless, handheld ultrasound system is designed to enable whole-body scanning at the point-of-care, empowering healthcare professionals to make faster decisions with confidence, at a low cost across a variety of care settings.
In Nepal, perinatal deaths occur in 1.46% of births, including stillbirths and early neonatal mortality.[1] The Government of Nepal has a vision to prioritize and further improve infant and maternal mortality rates. With GE HealthCare's cutting-edge SignalMax technology, this innovative device delivers clear images, putting diagnostic confidence in a clinician's pocket. Vscan Air's quick and accurate diagnostic capabilities can offer better decision-making in maternal and infant healthcare at the point of care.
"Our vision is to deliver care that is integrated, efficient, and highly personalized to each patient. There is a growing need for intelligent tools available to the clinicians that can provide efficient care - anywhere and anytime. Vscan Air exemplifies the same and is a step into this future state of healthcare," said Chaitanya Sarawate, President & CEO, GE HealthCare South Asia and Managing Director, Wipro GE Healthcare.  
" Vscan Air is boon for the hospitals especially in acute care settings, enabling clinician to plan early intervention without wasting any time. It's a whole-body ultrasound scanner that can be used in various departments due to its portable nature. Bringing new cutting-edge technology like Vscan Air to our hospital is in line with our objective of delivering better care," said Anil Oduvil, CEO, Manipal Teaching Hospital.
"Working in critical care medicine, I can confidently say that VScan is an incredibly convenient and valuable tool. It has become an integral part of our day-to-day work, just like a stethoscope. The portability of the ultrasound device is especially beneficial in Nepal, where moving patients from one place to another for scans can be challenging. I believe it has a vast scope for long-term use in various medical fields," said Dr. Amir Babu Shrestha, President of the society of Anaesthesiology of Nepal (SAN), Head of Department, Anaesthesia Department, Manipal Teaching Hospital, Kathmandu.
"The expanding spectrum of end-of-life care requires more units and research, especially in resource-limited regions like Nepal. The portability and lower cost of this machine opens new possibilities, enabling us to train more people and ultimately save more lives. In our experience, the dynamic probe, with both linear and curvilinear capabilities, has proven to be quite valuable. This small yet powerful device is a perfect fit, particularly for smaller hospitals where it can be utilized across various departments. From emergency and anaesthesia to acute care conditions, the potential for its use is vast. It's a game-changer for critical situations like CPR, where ultrasound can make all the difference," said Dr. Gentle S Shrestha, Associate Professor, Department of Critical Care Medicine, Tribhuvan University Teaching Hospital, Maharajgunj, Kathmandu.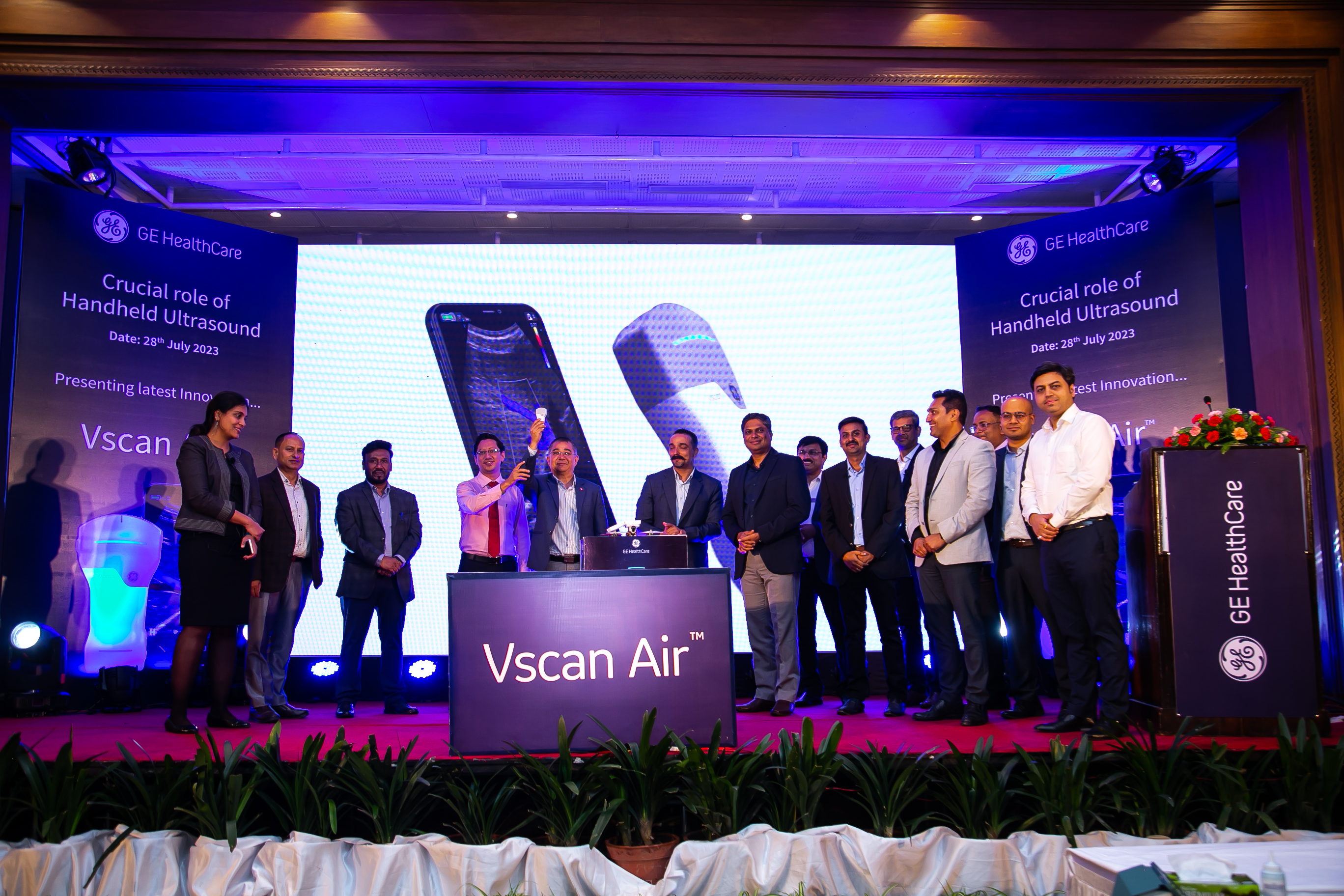 Inframe (L to R)- Aishwarya Rao, Ultrasound Segment Head - New Markets, GE HealthCare; Vimal Upreti, Proprietor, Max Meditech; Shukant Boral, Regional Product Manager – Handheld Ultrasound - North & East, GE HealthCare; Dr Gentle S  Shrestha - Associate Professor, Dept. of Critical Care Medicine, Tribhuvan University Teaching Hospital; Dr Amir Babu Shrestha, President of the Society of Anesthesiologists of Nepal & HOD Anesthesia Dept., Manipal Teaching Hospital; Prof.  Dr Subhash P Acharya, Department of Anaesthesiology, Institute of Medicine, Tribhuvan University Kathmandu; Anup R Kumar, Business Head – Ultrasound, GE HealthCare South Asia;  Sharad Srivastava, Segment Head POC, GE HealthCare; Siva Kandan, Clinical Consultant Manager, GE HealthCare; Arvind Sadaiappan, Sr Product Management Manager - Product Manager, GE HealthCare; Manoj Pathak, Business Manager – Nepal, GE HealthCare; Vineet Tulshyan, Proprietor, Sun Medical; Mayank Harit, Marketing Leader - Ultrasound, GE HealthCare; Pankaj Bhatia, Regional Manager – North, Ultrasound, GE HealthCare
Vscan Air is designed with a touch screen interface and intelligent applications with the help of technology that has been precisely crafted to facilitate personalized and intuitive patient scanning. Up until now, high quality images have required large and expensive hardware. For handheld ultrasound this has meant small and ergonomic devices come at the expense of lower image quality. Vscan Air puts all of this into a technology without compromise on image quality.
Crystal Clear images – for confidence in what clinicians see, where they need it.
Dual-probe enables whole-body scanning – with the flip of the wireless dual probe (for deep and shallow scanning) and a push of a button to capture images.
Portability without compromise – power of a high-performance ultrasound machine in a lightweight, wireless, pocket-sized solution
Redefining the patient experience and access to ultrasound technology – involving patients by sharing real-time images and send images with patients as simple as see, snap, send.
To date, there are more than 50,000 systems from the Vscan product suite in the pockets of clinicians, impacting the care of more than an estimated 100 million patients worldwide. Vscan Air has been developed with over 100 clinicians worldwide, for clinicians, to meet the customers' needs, making the tool intuitive so they can pick up Vscan Air and get to work. By providing clinicians with a wireless handheld ultrasound system, GE HealthCare continues to empower healthcare professionals in delivering exceptional patient care.
About GE HealthCare Technologies Inc.
GE HealthCare is a leading global medical technology, pharmaceutical diagnostics, and digital solutions innovator, dedicated to providing integrated solutions, services, and data analytics to make hospitals more efficient, clinicians more effective, therapies more precise, and patients healthier and happier. Serving patients and providers for more than 100 years, GE HealthCare is advancing personalized, connected, and compassionate care, while simplifying the patient's journey across the care pathway. Together our Imaging, Ultrasound, Patient Care Solutions, and Pharmaceutical Diagnostics businesses help improve patient care from diagnosis, to therapy, to monitoring. We are an $18.3 billion business with 50,000 employees working to create a world where healthcare has no limits. Follow us on Facebook, LinkedIn, Twitter and Insights for the latest news, or visit our website www.gehealthcare.in for more information.
About Wipro GE Healthcare Pvt. Ltd.
Wipro GE Healthcare Private Limited is a Joint Venture (JV) between GE Precision Healthcare LLC, USA, and Wipro Enterprises Limited, India. Established in 1990, it is one of the most successful and longest-running JVs in the region with operations spread across India, Bangladesh, Sri Lanka, Nepal, Maldives, and Bhutan. The company is one of the most premium Medical Technology players in the South Asia region. Wipro GE Healthcare is focused on addressing some of the toughest healthcare challenges - helping lower maternal and infant deaths, enabling early detection of cancer, providing precision-care pathways for heart diseases , and driving better outcomes for trauma patients, among others.
Media Contact
Shipra Singh | shipra.singh@ge.com | +91 9769496988