The challenge
Optimize time of teams and patients, as well as calculate the right radiation dose for the right patient while delivering the right image quality.

ASiR™ or ASiR-V*™1,
ASiR™, the world's most-used iterative reconstruction (IR) method, and ASiR-V*, the next generation of GE iterative reconstruction technique, allow you to routinely lower the exam dose while preserving or even enhancing diagnostic value.

150+ Patient-size adjusted, dose optimized protocols (UW)
Designed, developed and validated by experts at the University of Wisconsin-Madison, for GE scanners for both adults and pediatrics.

2 400 000+ exams collected with DoseWatch Explore*
Web-based, cloud-deployed solution to track, analyze and report practice-level dose data. Getting started with dose management has never been easier.

The challenge


Obtain fast, high-quality images and avoid patient and staff disruptions.

0.28 mm spatial resolution

High resolution, low-contrast detectability, and less noise and/or artifacts are crucial to clinical imaging. The newly developed Clarity imaging chain holds enormous potential to enable high resolution imaging for your daily routine.

>1 min can be saved per exam

Hands-free workflow so you can spend more time with your patient. One-stop scanning mode on the Xtream Display allows scan start in as few as five touches.

Tube Watch

Remote monitoring 24/7 and fixes at a more convenient time. It allows proactive part delivery and service scheduling to help maximize uptime by getting the scanner restored quickly.

The challenge


Deliver rapid, accurate, precise and confident diagnosis.

Smart MAR*

Designed to reveal anatomic details obscured by metal artifacts, helping you utilize CT scans and diagnose disease with greater confidence.

Smart Cardiac technologies*

Set up and perform complex cardiac procedures quickly, reliably, and repeatedly. Intelligent Motion Correction Snapshot Freeze

2

is designed to reduce blurring artifacts due to motion in coronary vessels.

CT post-processing powered by AW*

Clinicians using VolumeShare 7 reduced the reading time by approximately 20%

3

which enhanced productivity and efficiency in diagnosing patients.

The challenge


Do more in less time and be prepared for the future.

Latest CT capabilities at your fingertips

We designed Smart Subscription, a subscription service that provides convenient and continuous access to the latest available capabilities

4

.

Optimize your performance with analytics


Reduce patient time in the waiting room, to improve your scheduling, to manage better the unplanned patients.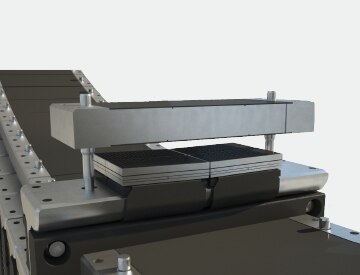 Clarity Imaging Chain
To enhance spatial resolution
The Clarity Imaging Chain was completely redesigned for Revolution EVO Gen 2 to deliver high spatial resolution, so you can clearly see details as small as 0.28 mm.
The Clarity Imaging Chain features:
The Performix 40 Plus tube with its stable dual focal spot for better precision and its 0.35-second routine rotation speed for faster scan times.
Highlight Clarity detector inherited from the breakthrough technology introduced on Revolution CT.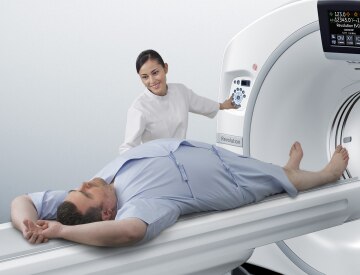 ASiR-V*
To make low dose routine or improve imaging quality
ASiR-V* is our novel iterative reconstruction technology. It has been designed to reduce noise levels, improve low-contrast detectability and reduce dose in routine imaging.1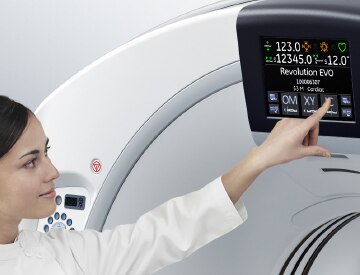 Smart Flow Technologies with Xtream Display
Help you improve productivity
Designed to help you improve productivity by streamlining your workflow and access to information, Smart Flow technologies enable fast, hands-free patient positioning, exam prescription from the patient's side, integrated injections, real-time reconstruction up to 55 images during the scan with Image Check and access to advanced applications right on the console. With the IQ Enhance pitch booster, you can scan a chest in as fast as two seconds with 175 mm per second acquisition speed to help shorten patient breath-holds while maintaining image quality.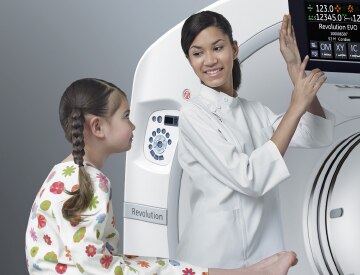 Smart Dose Technology
Revolution EVO Gen 2 features intelligent technology designed to help you acquire high-quality images using lower doses of radiation, contributing to more accurate diagnoses and lower exposures for patients. Dose management tools such as CT 4Kids dose-optimized pediatric reference scan protocols, 3D Dose Modulation, Organ Dose Modulation, Dose Check, DICOM DRSR and more are all at your fingertips. Revolution EVO Gen 2 is also compliant with NEMA XR 25 and XR 29 standards.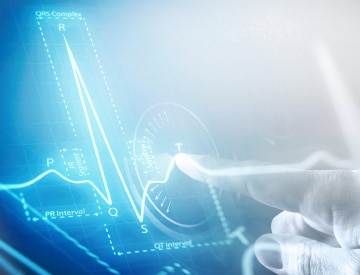 Smart Cardiac Technologies
Set up complex cardiac procedures quickly, reliably, and repeatedly, with Smart Cardiac tools are available on the Advantage Workstation*.
SnapShot Assist: Easily complete cardiac exams in as few as five beats with SnapShot Assist, which advises you of the best acquisition technique based on the patient's heart rate and BMI.  
SnapShot Pulse: Prospective gating with SnapShot Pulse allows for significant dose reduction in coronary imaging as compared to an ECG-gated helical acquisition mode.
SnapShot Freeze2: Reducing motion blurring in vessels by up to a factor of six, SnapShot Freeze facilitates your diagnosis by freezing coronary motion even in higher-heart-rate coronary CT exams. It delivers a 58 msec-equivalent gantry speed with an effective temporal resolution of 29 msec3.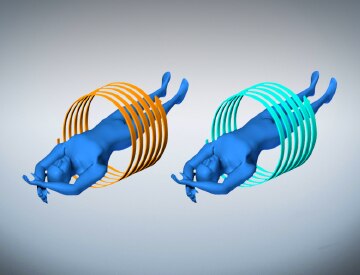 Dual-energy Imaging
Dual-energy imaging allows easy configuration of back-to-back axial or helical scans of the same anatomy at two different X-ray energies (kVs). 
The dual-energy data can be quickly post-processed right on the console or on the Advantage Workstation with easy image registration and one-click ROI ratio for simple analysis.
ASiR-V*
ASiR-V* focuses primarily on more advanced noise and object modeling than ASiR with added physics modeling to help reduce noise, improve low-contrast detectability, and reduce artifacts.
Routinely image with up to 82% less dose1. Combining the speed of ASiR with added capabilities from Veo full model-based iterative reconstruction, the novel ASiR-V* iterative reconstruction algorithm brings low dose and improved quality to routine imaging.
Up to 100% better spatial resolution1. ASiR-V* has the capability to improve spatial resolution compared to FBP by allowing the reconstruction of higher-resolution images with no increase in image noise.
Up to 135% improved low-contrast detectability1. ASiR-V* improves the detectability of low-contrast objects by up to 135% when compared to corresponding FBP reconstructions at the same dose.
Up to 91% less image noise1. Depending upon the scan technique and reconstruction parameters, ASiR-V* can significantly reduce electronic image noise compared to FBP at the same dose.
Less streak artifact1. ASiR-V* has the capability to reduce low-signal artifact, such as streak artifact, compared to FBP.
Intelligent solutions to help you transform your workflow tangle into a streamlined pathway enabling you to focus on the most important, your patients.
Smart Subscription

Keeps getting better...

At GE Healthcare CT, we believe great care happens by design. Smart Subscription's design, started with a broad vision: to help you deliver the best patient care, not just today but for the entire life of your CT investment. We understand your challenges: declining reimbursements, increased workloads, shortage of radiologists, workflow challenges, aging fleets and lack of capital funds. In response, we designed Smart Subscription, a subscription service that Subscription service provides access to the latest available capabilities for your devices, whenever you need, for one annual fee per device.

Keeps getting better by giving you access to the latest available capabilities every day you own it.
Same CT capabilities at all your sites by allowing you to provide consistent exams throughout your enterprise.
One set of capabilities to learn, operate and read from, enabling you to increase your staff efficiency, reduce training and improve satisfaction

Tube Watch

Reduce disruptions. Enhance care.

Keeping your hospital systems up and running is critical to your ability to deliver efficient, high-quality patient care. Tube Watch is GE Healthcare's predictive monitoring solution for CT scanners that can help predict an impending tube failure, enabling tube replacement at a more convenient time.

Monitor: Real time representation of the working condition of a system's components. This means, it remotely monitors and analyzes tube health trends over time, and any indications of change in performance.
Predict: The estimated failure date with high accuracy and help you make a determination whether or not to proactively replace the X-ray tube.
Repair: Run an in-depth assessment and, if needed, will schedule on-site maintenance at a time that is most convenient for the facility.

Dose Watch

Greater visibility into GE CT dose data - effortlessly.

DoseWatch Explore is a web-based, cloud deployed*, introductory dose management software to track, analyze and report practice-level data for GE CT systems. This software collects radiation dose data1 directly from your GE CT scanner, then summarizes and presents the data via a web application. With this introductory offering you can start to make initial improvements around dose management to help drive changes in your organization that can ultimately improve patient care with respect to radiation doses.

Visibility to practice level dose data.
An affordable program w/ no IT integration.
An automated tool for dose data & analytics.
High resolution ultra-low-dose foot for fracture assessment 0.0055 mSv

Ultra-low-dose high resolution imaging 0.0035 mSv wrist

Ultra-low-dose high resolution bilateral knees at 0.029 mSV

Ultra-low-dose chest at 0.57 mSv

Low-dose imaging of renal tract for query renal stones

Ultra-low-dose sinuses at 0.054 mSv10 year old with sinus pain
Low-dose exam showing a total aorta dissection

Low-dose and high-resolution runoff

Excellent IQ for peripheral angiography

Low-dose abdominal CTA for stent-graft follow Up

Low-dose and high-quality abdominal aortaEVAR stent assessment

TAVI – iliac vessels assessment (prosthesis) with Smart MAR
*Optional
1. In clinical practice, the use of ASiR or * may reduce CT patient dose depending on the clinical task, patient size, anatomical location, and clinical practice. A consultation with a radiologist and a physicist should be made to determine the appropriate dose to obtain diagnostic image quality for the particular clinical task. For ASiR-V*, Low contrast detectability (LCD), image noise, spatial resolution and artifacts were assessed using reference factory protocols comparing ASiR-V* and FBP. The LCD measured in 0.625 mm slices and tested for both head and body modes using the MITA CT IQ Phantom (CCT183, The Phantom Laboratory), using model observer method.
2. SnapShot Freeze requires CardIQ Xpress 2.0 Reveal on AW or AW Server
3. 20% decrease of mean reading time during a typical working period (07:00am-07:00pm).
4. Some of the technologies herein are technologies in development that represent ongoing research and development efforts. These technologies are not products and may never become products. Not for sale. Some products are not cleared or approved by FDA and/or some other countries for commercial availability.
5. As demonstrated in cardiac phantom testing.