The GoldSeal Advantage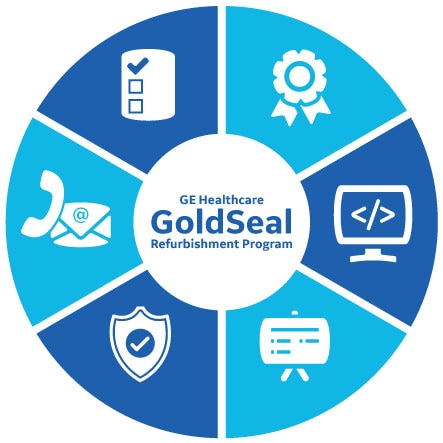 GoldSeal refurbished InnovaTM 2100 systems provide an image-guided system for cardiovascular and interventional imaging.

GoldSeal allows you to invest in mammography excellence with a refurbished SenographeTM Essential.


Infinia™ Hawkeye™ 4 incorporates hybrid imaging technology to help enable confident diagnosis, disease detection and precise localization.

GoldSeal refurbished Definium™ 5000 fixed radiography systems help maximize your space and productivity.

Refurbished GoldSeal Discovery™ST is the integration of Positron Emission Tomography (PET) and Computed Tomography (CT) technologies into one powerful scanner, av...

GoldSeal refurbished LOGIQ™ ultrasound systems deliver advanced point-of-care imaging across a range of care areas. Affordably.
Looking to sell medical equipment?
WIPRO GE HEALTHCARE PVT LTD