Medanta and GE HealthCare Launch Tele-ICU Services in India to Expand Access to Superspeciality Critical Care Medicine
To provide 24x7 critical care support and high-level knowledge transfer, in India and the world

The Medanta e-ICU command centre was inaugurated by Hon'ble Chief Minister Uttar Pradesh Yogi Adityanath
New Delhi, INDIA – July 27, 2023: Medanta group of hospitals, a leading healthcare service provider, announced the launch of Tele-ICU services in India as Medanta e-ICU project, in association with GE HealthCare, a leading global medical technology and digital solutions innovator, with a vision to nurture superspeciality based critical care practices'. This association aims to transform healthcare delivery and address the existing gaps in critical care, with high level knowledge transfer via 24x7 Medanta e-ICU Command Centre, powered by cutting edge technology from GE HealthCare that equips both central and bedside medical teams.
The Command Centre was inaugurated by Hon'ble Chief Minister Uttar Pradesh Yogi Adityanath. This medical-technical platform will provide a near real-time patient monitoring, even during the odd hours like midnight, enabling early patient interventions. As a result of this fusion, the decision-making ability of an ICU can bring extraordinary results in clinical outcomes.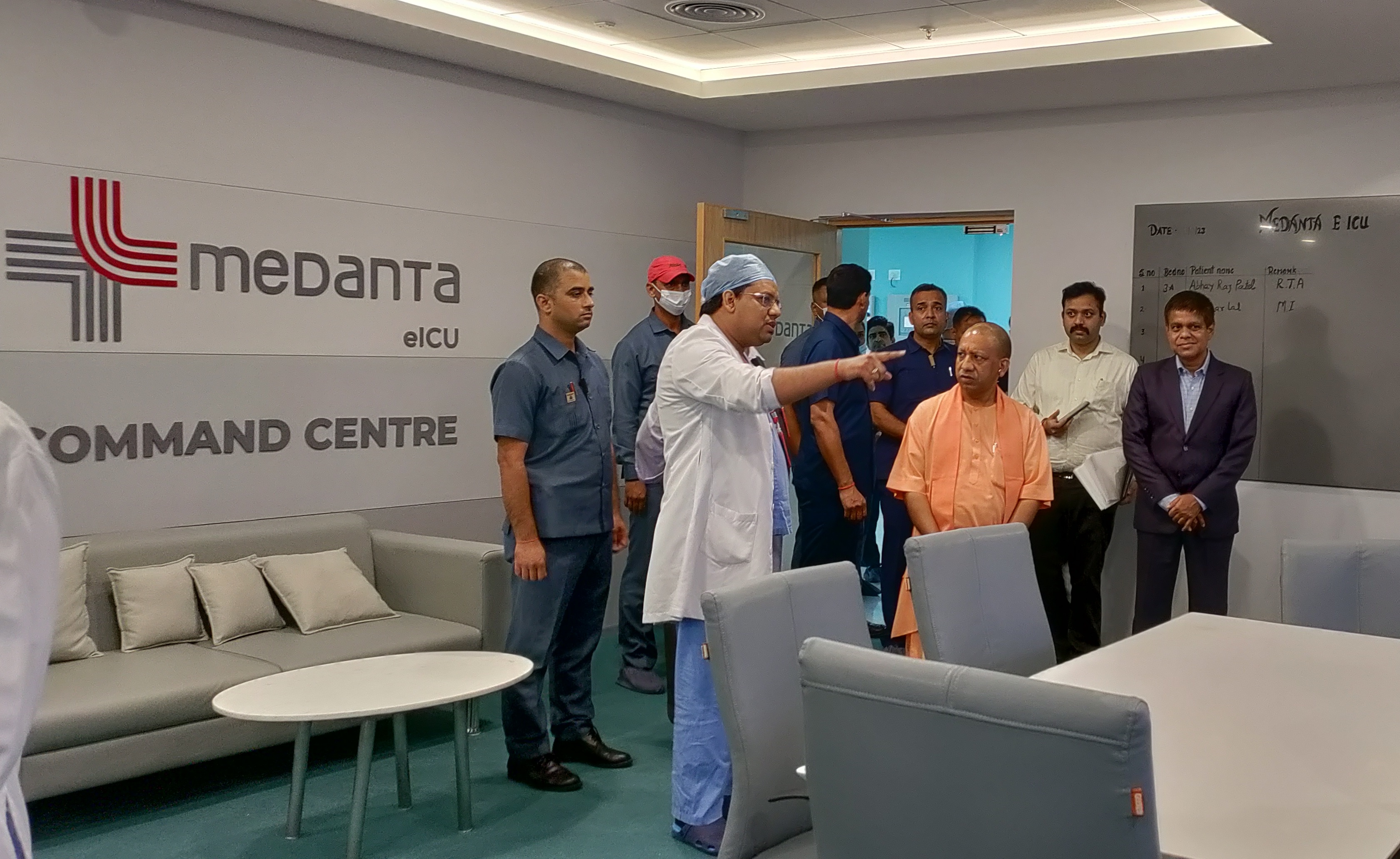 Inframe: Hon'ble Chief Minister of Uttar Pradesh Yogi Adityanath at Medanta e-ICU inaugration
In India, the availability of round-the-clock, well qualified on-site intensivist staff is limited and costly which can result in delays of appropriate clinical decision and may lead to increased morbidity, mortality, and financial burnout. Alternate strategies were needed to bring expertise and proactive, continuous care to critically ill patients. The Command Centre aids direct integration of hospitals systems to devices, enabling increased efficiency, greater collaboration, enhanced patient care, and a reduction in cost of care, improving the overall experience for patients and clinical teams. Medanta will support the service delivery with the help of a closed super specialized critical care medicine team at the command center, applying globally accepted best practices.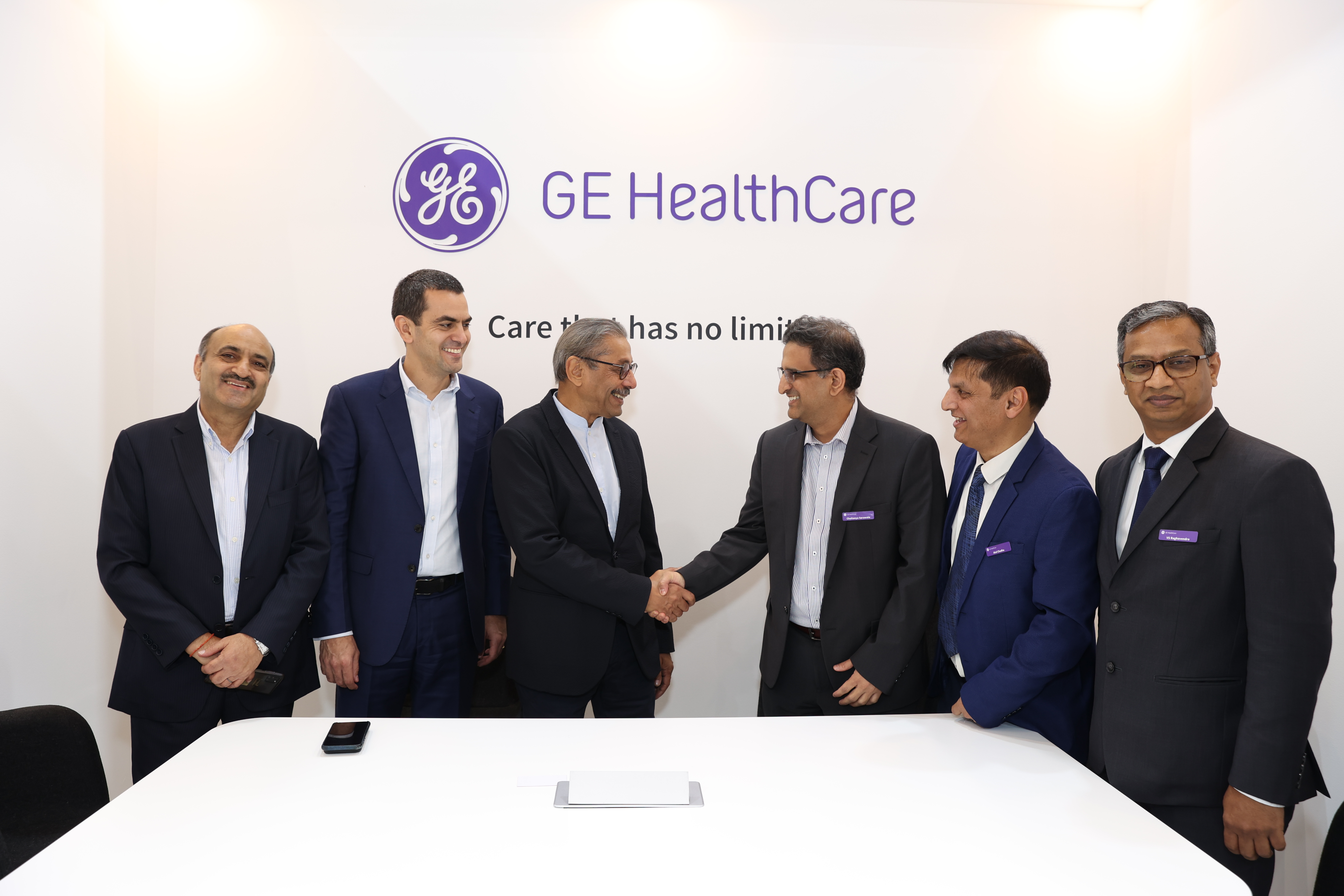 Inframe (L to R)- Dr. Naresh Trehan, Chairman & Managing Director, Medanta  and Medanta team,
Chaitanya Sarawate, President & CEO, GE HealthCare South Asia and MD, Wipro GE Healthcare and GE Healthcare team 
Dr. Naresh Trehan, Chairman & Managing Director, Medanta said, "Infrastructural gaps in critical care are more pronounced with limited resources in districts and smaller towns. Through this association with GE HealthCare, we aim to offer valuable lifesaving digital/tele-ICU services. The platform will provide continuous 24x7 advanced consultation, care, and monitoring to critically ill patients without having to physically transfer them to a super-specialty hospital, enhancing a healthcare professional's capability to treat and consult more patients."
Chaitanya Sarawate, President & CEO, GE HealthCare South Asia and Managing Director, Wipro GE Healthcare said, "Our mission is to bring quality care to every citizen in India. With this association, we are combining our proven precision technology with expert clinical knowledge from Medanta to help break the barriers of access and cost; and contribute to better patient care and improved outcomes across all of India." He further added, "In critical patient conditions, accurate diagnosis is vital and every second matters. The Command Centre, powered by guidance from a super speciality critical care team will help make this possible. Medanta is among the finest healthcare institutes in the country with deep clinical knowledge and we are confident this association will be a big step forward in transforming critical care delivery in India."
Dr. Dilip Dubey, Director, Medanta Digital Critical Care Services said, "Evolution of critical care medicine as a super speciality took long journey. Over a period, the medical world acknowledged the importance of its diversified approach which incorporates the potential of superior diagnosis establishment, intelligent monitoring, and timely therapeutic decisions. To match the above standards, Medanta created a dedicated tele-ICU team to cater these digital critical care services. The team will work round the clock in the Command Centre, with specific expertise in diagnostic critical care medicine and ICU infections."
In January 2023, GE HealthCare completed its spin-off and began trading on Nasdaq. Over the past decades, GE HealthCare has strengthened its presence in India by investing significantly in R&D, manufacturing, distribution capabilities and supply chain.
About Medanta
Founded by Dr. Naresh Trehan, a world-renowned cardiovascular and cardiothoracic surgeon who has been awarded the prestigious Padma Bhushan and the Padma Shri, the third- and fourth-highest civilian awards in India, and the Dr. B.C. Roy Award in recognition of his distinguished contribution to medicine, Medanta (Global Health Limited) is one of the largest private multi-specialty tertiary care providers operating in the North and East regions of India, with key specialties including cardiac science, neurosciences, oncology, digestive and hepatobiliary sciences, orthopedics, liver transplant, and kidney and urology, according to the report titled "An assessment of the healthcare delivery market in India, September 2022" by CRISIL Limited. Under the "Medanta" brand, the Company has a network of five hospitals currently in operation (Gurugram, Indore, Ranchi, Lucknow, and Patna). Spanning an area of 4.7 million sq. ft., its operational hospitals have 2,571 installed beds as on December 31, 2022. It also has one hospital under-construction in Noida. The Company provides healthcare services in over 30 medical specialties and engages over 1,400 doctors led by highly experienced department heads.
About GE HealthCare Technologies Inc.
GE HealthCare is a leading global medical technology, pharmaceutical diagnostics, and digital solutions innovator, dedicated to providing integrated solutions, services, and data analytics to make hospitals more efficient, clinicians more effective, therapies more precise, and patients healthier and happier. Serving patients and providers for more than 100 years, GE HealthCare is advancing personalized, connected, and compassionate care, while simplifying the patient's journey across the care pathway. Together our Imaging, Ultrasound, Patient Care Solutions, and Pharmaceutical Diagnostics businesses help improve patient care from diagnosis, to therapy, to monitoring. We are an $18.3 billion business with 50,000 employees working to create a world where healthcare has no limits. Follow us on Facebook, LinkedIn, Twitter and Insights for the latest news, or visit our website www.gehealthcare.in for more information.
Media contact
Shipra Singh | shipra.singh@ge.com | +91 9769496988